(Contact us to receive information in hardcopy form.)
Problem:
In the event of a fire, a cable tray serves as a path for the fire to move to other areas of the plant.
SRE Solution:
Cable Tray Penetration Seals provide a barrier between rooms protecting equipment from smoke and fire. Materials allow for future cable pulling and routing.
<![if !vml]>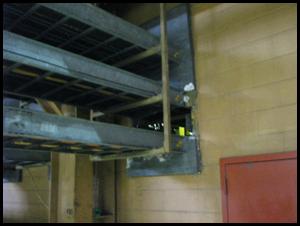 <![endif]>
SRE Advantages:
Ability to remove penetration seals for cable additions and updates.
Before and after matrix aid in proper system selection. Also provides visual to compare completed work insuring correct installation.
Design drawings are assembled allowing each step of the process is able to be understood by a novice installer. Following each step in sequence insures a fire protection installation that will function in a fire/smoke event.
Ability for corrective maintenance to be performed 10, 20, even 30 years from now
System designs are installed by SRE's trained and certified installers.
Ability to install while the unit is live.
Ability to accommodate openings up to 6'' in diameter.
Three hour fire rating

Material(s) Description:
FS657 Fire Block
FS1 Caulk